Blending academic and spiritual growth – with a trailblazing S.T.E.M. achievement – is the winning formula for all-girl Fontbonne Hall Academy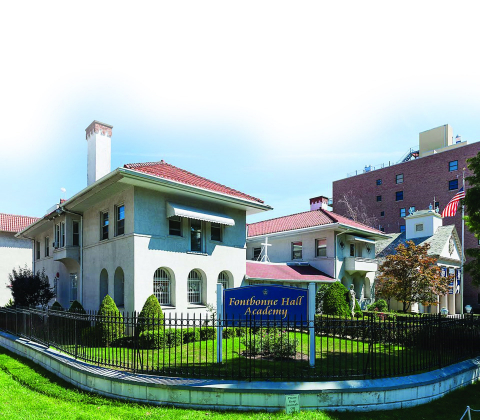 America's all-girl Catholic high schools are well-known for delivering a spiritually enriched liberal arts education that produces solid, broad-minded graduates. And now, that reputation is being reimagined – as a platform for top-quality science, technology, engineering and math (STEM) learning – thanks to Fontbonne Hall Academy in Brooklyn and its hard-charging, visionary principal, Mary Ann Spicijaric.
Mary Ann's journey to becoming a Catholic education trailblazer began at co-ed St. Francis Preparatory School in Queens, New York, when a teacher inspired her fascination with chemistry. Upon graduation, Mary Ann had in mind two possible careers – to go into medicine or become a teacher. She was leaning toward the latter course, and pursued her Bachelor of Science in Teacher Preparation (Specializing in Chemistry) at Manhattan College in the Bronx. Then, a fortuitous student-teaching assignment at the acclaimed Bronx High School of Science inspired Mary Ann to devote her life to helping young people achieve their full potential.
Guided by her Catholic school experience, her first position after college was back at her alma mater, St. Francis Prep. There she distinguished herself as a science teacher, director of the school's science research program, and chair of its science department. She would go on to earn a Master of Science in Secondary Education from Fordham University and a Specialist Diploma in Administration and Supervision from Queens College. Under her guiding hand, St. Francis Prep became the only Catholic school to become a semi-finalist in the Intel Science Talent Search, America's most prestigious pre-college science competition.
In 2013, providence presented Mary Ann with an irresistible opportunity: to become principal of the all-girl Fontbonne Hall Academy, and to transform it into an institution with an outstanding STEM offering. Fontbonne was founded by the Sisters of St. Joseph in 1937 as a finishing school for girls. Within its impressive European-style façade, many generations of girls have gained a quality liberal arts education with a strong emphasis on tradition and Catholic faith. The Sisters of St. Joseph of Brentwood, Long Island, who sponsor Fontbonne, sought out Mary Ann because she was uniquely qualified to preserve the uniqueness of the school's history while transforming it to better prepare graduates for tomorrow's careers. Specifically, they wanted her help in meeting a new reality: About two-thirds of all careers now involve some form of science, technology, engineering and math. Mary Ann was eager to elevate the school's STEM capabilities, and her educational philosophy aligned perfectly with Fontbonne's: to develop confident young women who can think critically, analytically and creatively and who possess the desire to continue learning throughout their lives.
When Mary Ann stepped into the principal's role, the infrastructure for a strong STEM curriculum had yet to be built out. The school had no email system or wi-fi network, the science labs were outdated, few faculty members were skilled in using the latest technology. A new director of technology arrived the same year, which helped to accelerate the build-out of key technologies, such as a Chromebook mobile computer program. Even more momentous was a connection made with Google, thanks to one of Mary Ann's former students. Google was working on a secret application, one that they hoped would transform America's classroom, and they chose Fontbonne as the first full school to test their invention. The application was ultimately revealed to be Google Classroom – a digital hub for online learning and classroom management – and its implementation at Fontbonne was the turning point both for the staff and the school's emergence as a STEM education leader.
The STEM fields are so broad and complex that it takes great teachers and excellent facilities to deliver a well-rounded experience. Mary Ann's vision has been to immerse students in the most exciting concepts, technologies and innovations available today. The school has built a Fabrication Lab (the Fab Lab), a high-tech space where students can experiment with drones, robots and virtual reality tech, among other things. There is now a three-year Science Research Program and a total of 17 advanced placement (AP) courses. The school also has formed a bond with Brown University, whose professors teach pre-engineering courses via video. These and other STEM-oriented advancements are taking place even as the school sustains thriving programs for religion, language, visual arts, social studies and athletics, among others.
These major enhancements to the school's staff, programs and facilities have required significant investments. But, the school's funding is largely borne by student tuition, which each year falls about $4,300 short, per student, of the actual cost of education. To keep tuition affordable, the school is striving to raise awareness of its need for continuing financial support. In particular, they want to inspire alumnae to give a gift to Fontbonne. Many alumnae look back at their time at Fontbonne, and declare that it, "Made me the woman I am today." The school is encouraging them to act on that sentiment, and to make gifts that can help today's girls fulfill their potential.
Mary Ann and the Sisters are committed to ensuring a more stable financial future for Fontbonne, which is why they began establishing an investment program for the school several years ago. Recently, they turned to a professional investment management firm for assistance in this regard. The firm is helping to guide Fontbonne's long-term investment strategy while ensuring that the school's portfolio supports the teachings of the Catholic Church, as articulated in the U.S. Conference of Catholic Bishops (USCCB) Socially Responsible Investment Guidelines.
In many ways, the journey of Fontbonne echoes that of the Sisters of St. Joseph, an order established in France in 1650 by a Jesuit priest who brought together a group of women to promote a love of God and to meet the most urgent social needs of their time. Today, the Sisters of St. Joseph of Brentwood, Mary Ann Spicijaric, and the staff, parents, alumnae and other supporters of Fontbonne Hall Academy are committed to sustaining that tradition of service – with a little help from cutting-edge science.