eBook: Practicing the Art of Advancement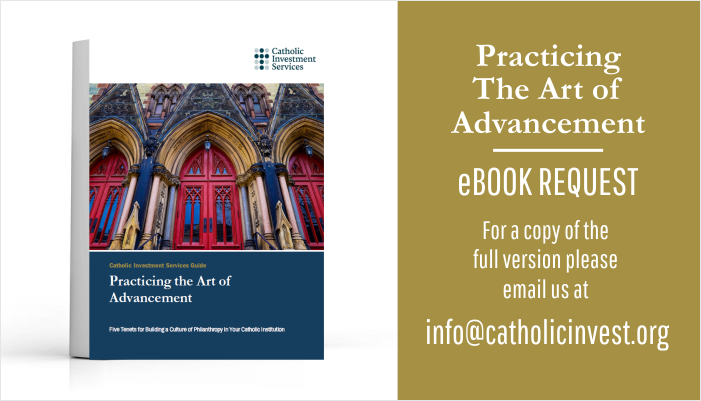 Practicing the Art of Advancement
Five Tenets for Building a Culture of Philanthropy in Your Catholic Institution
Introduction
We are pleased to share this guide, which offers ideas for optimizing core fundraising
activities so they can contribute more powerfully to your Catholic institution's financial
resiliency. We created this guide as a supplement to "The Art of Advancement," an eBook
that covers essentials such as enhancing financial management practices, creating an
advancement function, making fundraising more strategic and building a strong endowment.
"Practicing the Art of Advancement" centers on 5 tenets for revenue-raising success:
Transforming your Annual Fund into a durable foundation for fundraising
Ensuring that your Events are driving results (not just wearing out your team)
Keeping your Capital Campaigns on track and effective
Effectively engaging large donors for Major Gifts
Navigating conversations about Planned Giving
More and more, Catholic institutions – from schools to hospitals, dioceses, foundations and
religious orders – are making advancement a priority. The reason: Without a strong
advancement program, some organizations may struggle or fail in the decades ahead due to
shifting demographics and donation practices among Catholics nationally.
CIS created this resource and its companion eBook to help you meet this challenge. In
creating both of these guides, we collaborated with Partners in Mission, a group with
extensive experience in helping Catholic educational institutions to create and strengthen their
advancement programs. These resources are practical and written in plain language, as are the
many other eBooks, videos and webcasts on our CIS Institute website.
For a copy of the full version of Practicing the Art of Advancement, please email:
info@catholicinvest.org.