Sustainable Grace Podcast: Episode 12 – Principles in Focus: Keys to Envisioning, Creating & Sustaining a Successful Investment Strategy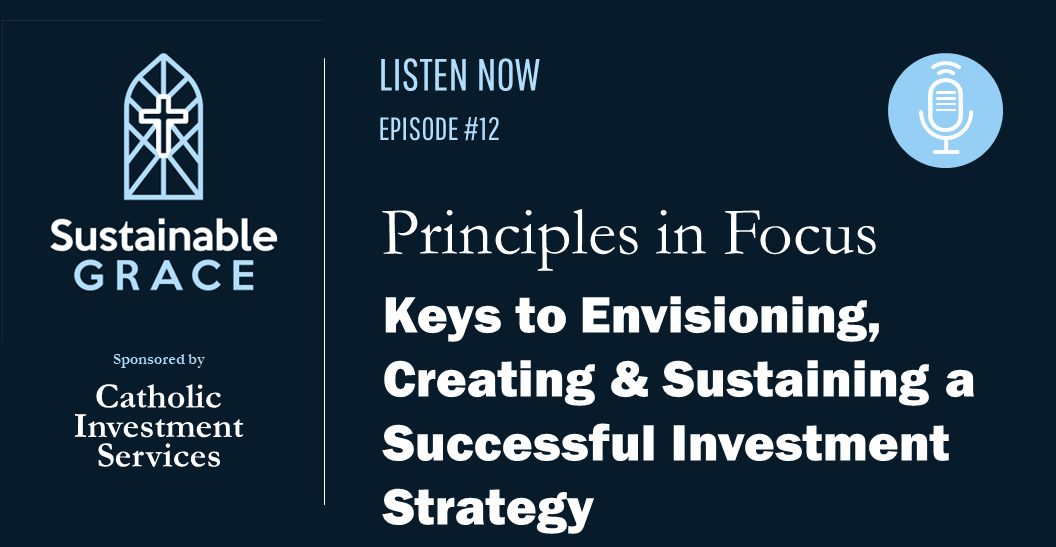 Keys to Envisioning, Creating and Sustaining a Successful Investment Strategy
Sustainable Grace
Catholic institutions work diligently to advance their good works while striving to ensure that their missions can be sustained financially over the long term. In navigating the investment complexities that all organizations face they also must take steps to align their portfolios with the tenets of the Catholic faith – which presents unique challenges.
Fortunately, this new Sustainable Grace podcast – part of our Principles in Focus series – brings you practical ideas for securing the future of your Catholic institution by improving board and committee governance structures and applying best-practice investment principles. This podcast, hosted by Zela Astarjian of Catholic Investment Services, brings together three leaders with extensive experience in these vital areas. Sharing their insights are:
Suzanne Brennan, CSC, Councilor of the Sisters of the Holy Cross, with broad experience in leading Catholic entities across the country and has served on many Catholic investment committees.
Mary Burke, Partner at Lakeshore Food Advisors, with deep investment banking experience and service of the committees of several Catholic entities.
Eileen Alexanderson, Investment Consultant for BMT Management and Financial Services, who works with a broad range of religious institutions on financial, investment and other key matters.
This podcast will sharpen your knowledge of how to align your investment approach with your Catholic values and unique mission.
This recording was taken at the 2022 RCRI National Conference in Dallas Texas.
This content is for educational purposes only. Panelist opinions expressed are their own and thus do not necessarily reflect CIS's opinion, investment advice, or strategies.  This is not a solicitation to purchase securities, nor is it meant to be investment advice.  CIS has not verified the content for accuracy, nor will it update it in the future.