Principles in Focus: Ten Common Pitfalls of Building Your Catholic Foundation and How to Address Them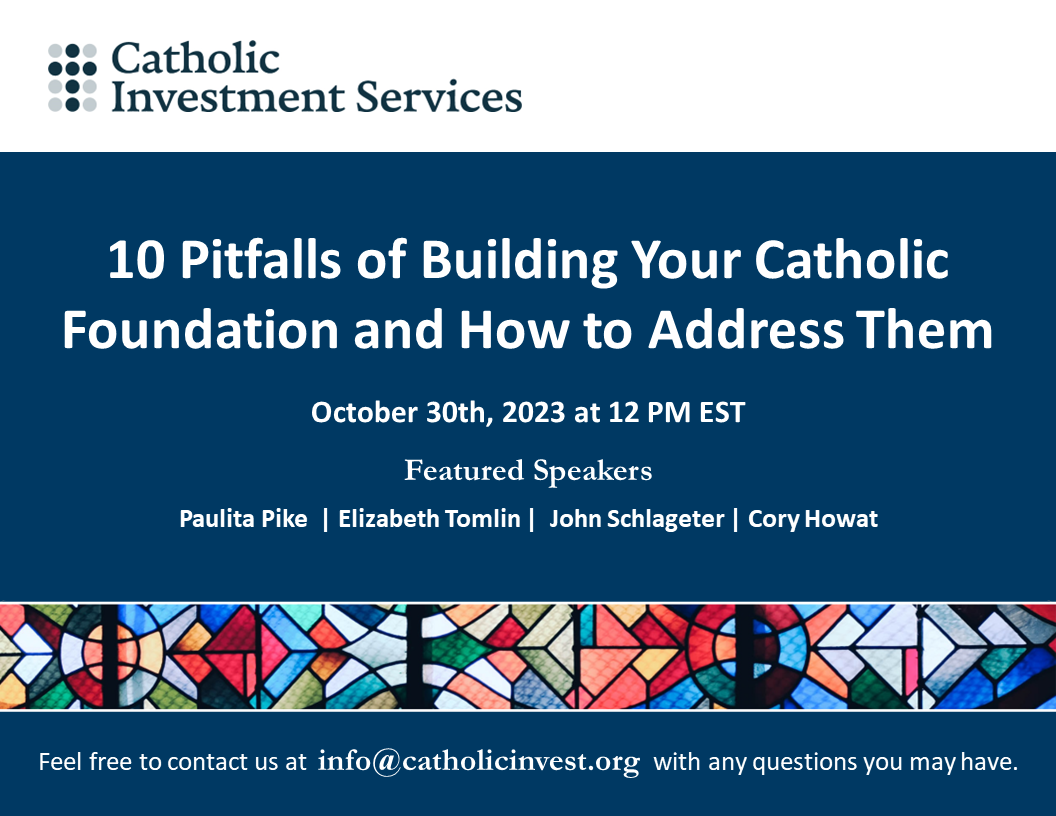 In this webinar, we highlight ten common pitfalls of building a Catholic foundation, and how to address them. This is a continuation of our previous webinar, on Strengthening and Structuring Catholic Foundations and Trusts. In this webinar, you will hear from Catholic fiduciaries and industry experts sharing practical advice on the ten most common mistakes to avoid when building a Catholic foundation, and offering best practice solutions.
00:00 – Webinar opens, Zela Astarjian, CIS Managing Director, Welcome and Introductions
08:49 – Opening Prayer, Elizabeth Tomlin, Archdiocese for the Military Services
09:17 – Paulita Pike, CIS Trustee, Beginning the conversations on pitfalls for Catholic foundations to avoid
10:33 – Pitfall #1: Not defining your mission
17:50 – Pitfall #2: Not having timely, adequate staffing
24:17 – Q: Can Catholic foundations sign agreements with a diocese so that financial management staff can safely manage while stewarding funds appropriately?
25:57 – Pitfall #3: Not setting reasonable expectations nor timelines
31:10 – Pitfall #4: Not prioritizing hires appropriately
38:50 – Pitfall #5: Lack of proper governance
40:49 – Pitfall #6: Not contemplating canonical implications
42:43 – Q: Is there a recommended amount of assets before it makes sense to start a separate foundation?
45:00 – Pitfall #7: Commingling assets with confusion of assets between a foundation and archdiocese
48:14 – Pitfall #8: Not paying attention to details
41:00 – Pitfall #9: Not understanding your investments
54:30 – Pitfall #10: Not investing wisely
59:50 – Thank you and closing