eBook: Securing the Future of your Catholic Institution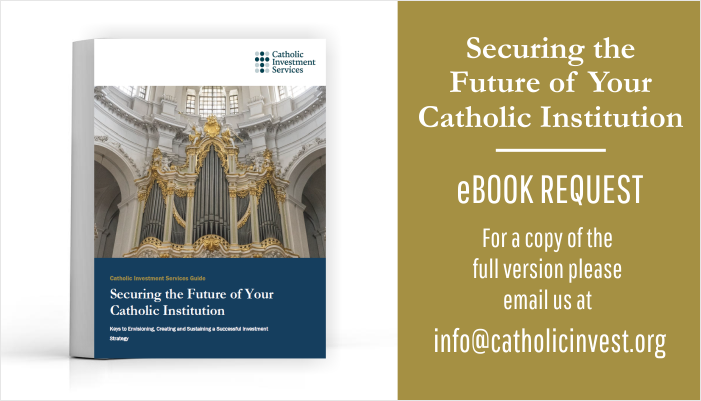 We are very pleased to present you with this guide – "Securing the future of your Catholic institution" ­which provides ideas and best practices for envisioning, creating and sustaining a successful investment strategy for your Catholic organization. Within these pages you will find easy-to-understand information about:
Forming a diverse and dynamic investment committee,
Establishing sound committee practices and procedures,
Creating an effective investment policy statement, and
Forging strong partnerships with investment advisors and fund managers
Although there are thousands of articles that offer general advice on these topics, we believe that this is the first guide to address the needs and challenges specific to Catholic institutions. Our Catholic institutional clients have contributed their own invaluable insights, examples, innovations ­– and important questions – as they've worked with us to create or refine their investment processes.
Many Catholic institutions begin their investment journey by creating an endowment, a fund designed to support long-term objectives while creating a financial bulwark against tomorrow's economic uncertainties. In doing so, they face several challenges. First, they must incorporate Catholic principles into their investment approach, while also striving for strong portfolio performance in line with their fiduciary responsibility. Second, they must create an effective oversight model, one that can be sustained over many decades. Finally, they must engage investment professionals who not only understand market values but also the higher values that all Catholics embrace.
For a copy of the full version of the eBook: Securing the future of your Catholic institution, please email:info@catholicinvest.org